U wanna find out about ME??? OK.. watch this: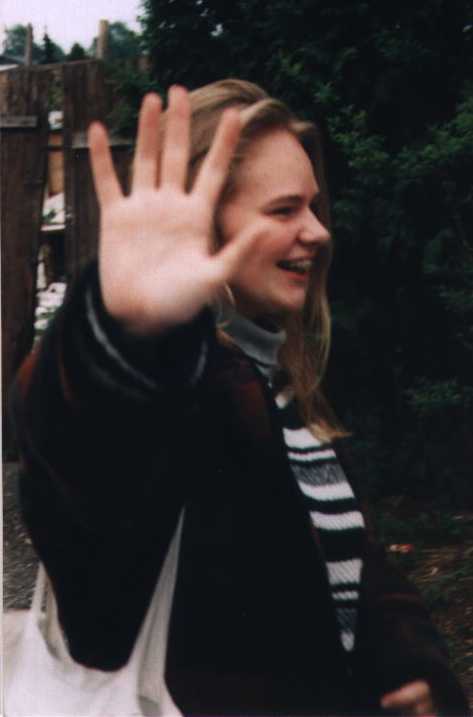 *No Pictures, please!*

Name

: Simone Hoeller
Birth date: August, 22 1981
Location: Austria
School: now non - I WENT to Bundesfachschule für wirtschaftliche Berufe in Köflach
Color Hair: blond
Color Eyes: blue
Height: 165 cm
Shoe Size: 38/39
Fav Color: black
Fav Songs: Almost all Michael Jackson's, most of Will Smith's songs, I get lonely (janet), You (janet), all 3t's, Heartbreak Hotel (Jacksons), Fly away (Rebbie), Centipede (Rebbie Jackson), Baby, I'm in heaven (Rebbie), Somewhere in the night (Scott Bakula), Ease On Down The Road (Soundtrack THE WIZ) Smile by Charlie Chaplin all munKa twitch songs!
Fav. Book: Moonwalker, Confessions of a Kamikaze Cowboy, My Autobiographie (Charlie Chaplin)
Fav Vacation Spot: California...
Fav. Pet: I love all big animals..I could live without bugs ... I would love to have a dog.. I have a cat - Lucy
Fav. Musical: Man of LaMancha
Best Friend(s): Elfi, Heidi and ALL MY INTERNET PALES!!!!!!!!!
Best Friend(s) of the Opposite Sex: Christian
Boyfriend or Girlfriend:-----
Crush?: OH boy.. MANY!!!!*lol*
Things you like in the opposite sex: humor, hands, smile, eyes, might sound funny but: back...
Most romantic thing a person has ever told you: Nobody told me anything!
Funniest: ? too many
Why do you like your crush?: He's special
Best Quality in a friend: that he/she gives the same love, care...back as I give her/him
Fondest Memories of you and your friends: DISNEYLAND PARIS
Scariest Thing that has ever happened to you while with your friends: Nothing really scary...
Favorite Food: Chinese
Favorite Place to Eat: in bed
Food you hate: McDonald's food - cause I can't resist
Weirdest food you like: don't know
Dumbest Thing You Have Done: Bumping into a bus window because I saw Michael Jackson's Hotel...*lol*
The one person that knows the most about you: Heidi
Favorite Movie: 2 MANY... maybe.. "Hook", Most Jim Carry movies, Charlie Chaplin movies, MJs shortfilms
Last Movie You Saw: Shakespear In Love
Worst Movie You Have Seen: Lord Of Illusions too bloody for me
Best Advice Given To You: Keep The Faith, by Michael Jackson
One thing you could tell the whole world: Michael Jackson is human!!!!!and Nothing is like it seems...
The one thing you want to do before you die: Meet Michael
Thing you want to be remembered for: "smile"
Personality Type: very shy, sensible humorous: highly intelligent..*LMAO*
Favorite Music Group: munKa twitch, Jackson 5, Jacksons, 3T
Favorite Holiday: christmas
Favorite Season: summer, spring
What do you want to be when you grow up? An actress, of cause
Funniest Person You know: My cousin Heidi !!
Favorite Conversation Topic: Michael Jackson
Favorite Magazines: Black & White
Favorite Toothpaste: Colgate
Favorite Bubble gum: Whrigles "without sugar"
Favorite Candy: Try to stop eating it
Favorite Store: Media Markt, everywhere where I can buy CDs
Favorite thing to wear to school: Don't go to school but I wore only comfortable things.. Jeans T-Shirt
Biggest Fear: Hurt of the beloved
Favorite Inside Joke: Wo fährt er eigentlich hin? Ins Leben! A doch so weit!
Heidi insider> "Der geht da nich rein B.A."
Favorite Girls Name: -
Favorite Guys Name: Charlie, Dirk (german), Michael
Favorite Words: "Na Sehr Super Ne", "Wunderbar", ANYWAY, "surely"
Things you say way too much: see above, cool, exellent
Favorite Ice Cream: After Eight - yes it exists!!!
Favorite Soda: Mystery
Favorite Website: MY OWN!!!!*lol* I love all pages who write good, kind things about the ppl on the 1st page!
One Place you want to go: Neverland
Current Time and Date: April 8th 1999,14:19 Uhr
What did you do today: I got up!!yes I did, sir!!! I got 13 e-mails today... I wrote back to those ppl. I sent an e-mail to my former german teacher, I decided to go to the Munich concert "Michael Jackson and Friends" by train with some friends... I watched Qantum Leap (episode "Piano Man") I WILL go to a circus today!!! = a great day!!!!
Thing that you regret the most: Can'T think of something right now...
Number of pairs of shoes you own: 4 with my roller skates!!!
Favorite Piece of Jewelry: don't like 'em
Your theme song: HIStory, Somewhere in the night, I get Lonely
If a movie was made about you what would it be called: Boring, huh?
Color of your bedroom: white with some posters and pictures of Scott Bakula, Will Smith, Jim Carry Charlie Chaplin oh yes and about 11 posters from a man called Michael Jackson
Size of bed: Single
When did you get up?: Weekdays around 7:30 am, on weekends from around 11:00 am
Last phone number you called: 3143/2222
What's the weather: It's rainy but this is OK I LOVE rain, and wind!

Last book you finished reading by choice: Confesstions of a Kamikaze Cowboy by Dirk Benedict
Last Show you watched on TV: Quantum Leap
Color of socks you have on now: white
Silliest thing you've said: too many!!!!
Favorite Smiley Face: this one J
Last word you said: Das Leben ist toll!
What you really want to be doing right now: heading off to see Michael
How glad are you that this is over: I would do it again!!! It was fun!!!!!

I didn'T write that on my own... I got this form by mail and thought it fits to my page too.. so.. If u want to fill in the form too TELL ME!!