HOW I BECAME A MICHAEL JACKSON FAN...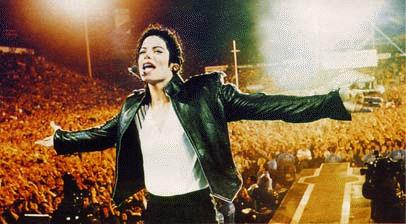 If u wanna tell your story on this page feel free to e-mail me at:
blumenhoeller@baernbach.at
My Story:
My cousin was a fan and she played HIStory to me.. So I fell in love with the song TDCAU and this is how it all started. I wanna thank my cousin for that!
---
I became a fan around the BAD era.... But I had heard Michael's music since the Thriller era...
I remember it like it was yesterday... I watched sky channel, Pat Sharpe ws the host and he showed me (not only me)


the music video BAD.. I loved it right away....And I listened to MJ's music from that day.... I was 10 years old, this was in 1988....
As I grew older my love for Michael went into another level, now I love him as a wonderful person and for the great humanitarian that he is. And he will always be MY greatest ENTERTAINER... I will never stop loving Michael....

From Hege- aka HG in MJIFC, 20 years old.....
---
how I become a fan?
I got a LP player (you now what I mean?) from my grant-parent and we had 100 LP's so I just grabbed one and played it, the record I was playing was from the Beatles, nice. The second record was from Tavares, okay. The third record was Thriller from... duh nice I liked Billie Jean and Beat It, but it wasn't enough to become a fan, I only liked two songs (maybe because the music was old ( almost before my time )
Well after a year I got a CD player from my parents! But I didn't have any CDs, so I just walked to my parents and ask for some CDs, and I saw the name Michael Jackson standing on one of the CDs and I remember his name from Thriller, the title of the album was "Dangerous" I put dangerous in the player and played almost al the songs ( fast, only 1 minute of each song ) but then I came to Black Or White, ok, and then to Give In To Me. it still is my favorite, I just fall in love with that song.
So I'm listing to Dangerous much, one day I was sitting in the car and my father said that he heard another song from Michael Jackson (Scream) one month later I had HIStory.. due the first disc I bought Bad and Off The Wall and that's how I became a fan.
From -remco-
---
I've always liked his music since I was little, but I wasn't a major fan then. I really started to become a 'fan' after Black or White was released and when I saw the video to it. After that I just had to get the Dangerous album - I got it as a gift from my parents - on CD!!! Only we didn't have a CD player then so I had to wait until we got our new hi-fi before I could listen to it!! Ever since then I couldn't get enough of him!!!!!!!!!!!!!!!
Then there was the Dangerous World Tour.............
I'd only just finished school so I could only afford to go the one concert in London, but after seeing Michael LIVE for the first time ever I really became a huge, major, mega fan!!!!!!!!!!! And have been ever since...........
From Rachel
---
1991:
I was completely a lonely high school student with no one to connect to. I buried my head into books and classical music. I was already a fan of Michael Jackson, my parents always played Jackson 5 stuff on the old records when I was a kid. I use to have a Michael Jackson doll.
But I was never really into music.
It was one day though that I just decided to get Dangerous. It was my first Michael Jackson tape. I listened to it and loved it so much. But what captured me and actually made me realize things will be ok, is the wonderful song "Will You Be There?" In this song, I found something I had never really felt I had, a friend. It was like he was talking to me, straight to me! I could feel every word, vibe off of every ryhthym. It was a spriritual moment for me, that has lasted to this day. "Will You Be There?" is a song that has forever touched my soul. From that point on, I became a MJ FAN 4 Life! I started to buy all his solo albums, then began searching for rare itmes I had neer even heard of, and then going back as far as Jackson 5 first recordings.I now regard myself as a "friend of Michael Jackson". I am an artist, I paint, draw, sketch, write, work on the computer, and am learning to play an instrument. Michael has a been a key ponit in my life, from his music and messsages of hope for the world, I found someone that I have a lot of things in common with. I became souly interested in all kinds of music because of Michael and his varitey of music he loves to use. He is a true artist, who will never stop. Since "Will You Be There?" Other songs have literally reached out to me, and I realized that we are all connnected somehow. I'm glad, it's Michael I'm connected too.
God Bless Michael Jackson.
From "M :)" a friend of Michael's.
---
I became a fan of Michael's the day I first saw him on the Ed Sullivan show with the Jackson Five. He was so adorable and what a talent. My sister and I loved to hear him sing. I loved 'Ben' so much. I was 17 years old and I saw the Ed Sullivan show as it happened not re-runs. It was not until he appeared on the 'Motown Anniversary Show" that I fell madly in love. I will never forget how I felt that night when he started 'Billie Jean'. After that my husband and I were sent to Turkey with the Air Force and we were gone for a long time, over fourteen years. I always bought every cassette, video and cd that they ever sold on base. In the late 80's my career was going very well (Civil Service) and I had a private office at work. I spent so much time at work that I had my office fixed very nice like home. Everyone use to tease me because I always had Michael's CD's playing on my stereo at work. I almost got the chance to see him in 1992. He came to Istanbul Turkey. I was not able to get off long enough to travel all the way accross the country to the concert. I sent my little adopted Turkish son the money for tickets. He is the grandson of my housekeeper but he grew up knowing us from the time he was a little fellow. He was attending University there in Istanbul. Well the concert was cancelled because Michael became ill so no one got to see him. Michael did play in Istanbul but by that time I was back in the states and medically retired from my position. I joined my first Michael fan club in 1996 at the age of 44. Michael is very special to me and I will always love him.
From Annie
---
How I became a Michael Jackson Fan!
I can't clearly memorize the time when I became a MJJ Fan because I was so little and in the kindergarten when I started to love Michael's music. This was in the time of Thriller. I sometimes sang his songs running around in the garden. I also had an uncle that always called me "Jackson" or "Michael Jackson".
But as time passed by I lost Michael out of my sight. I didn't have any cassettes, CD's or records of him. Some of my relatives and friends always said bad things about Michael and with the time I started to believe them. But I do remember rocking to Smooth Criminal many times. It was my favourite song of him in this time.
At the time of Dangerous, when Heal The World was out, I started to become a declared fan of Michael Jackson. I started to know that all these things about Michael are mostly rumours and the truth is something completely different. I was so impressed about the way Michael tried to make the world a better place. I also liked "We Are The World" very much. First I bought the Heal The World single and soon I also bought the Dangerous album. From this time I listened to Michael Jackson almost every day. When HIStory came out, I was most impressed by the song "They Don't Care About Us". As I was making my dance hours at this time I started to try to imitate Michael's moves and soon I danced on a party a got a massive applause. This ability developed and I had several appearances.
That's the way how I became a fan. Michael, I thank you for the inspiration you gave me!
(c) 1999 by Michael White